Staff

Kara Gordon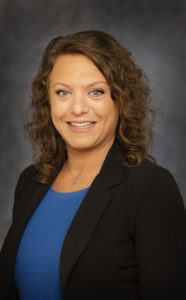 Administrative Assistant.  Kara joined our team on October 24, 2019.  Her contact information is  kara@bhr-llc.com and  (402) 937-7784. Kara's work hours are Monday to Friday, 8:30 am to 12:30 pm.
Kara's primary duties and responsibilities include providing administrative support to ensure efficient operation of the office and supervision of personnel, especially in the absence of the BHR President. In this role, she is responsible to ensure safeguarding of confidential, proprietary, and time sensitive material. As Administrative Assistant, Kara is also expected to have a working knowledge of concepts, practices, and procedures in the behavioral health and criminal justice fields as well as CARF standards and confidentiality guidelines (HIPAA and 42 CFR Part 2).  In addition to providing administrative support in our Dual Diagnosis Outpatient Treatment program, Kara also assists the BHR President with CARF consulting services.  In addition, she maintains a database of EMDR therapists in Nebraska using information from the EMDR Institute, EMDRIA, and other sources.  Kara also assists the BHR President in her role as the Regional Coordinator for the Southeast Nebraska EMDRIA Regional Network.
Education and Externship. Kara earned an Associate of Applied Science (AAS) degree in Criminal Justice from Hamilton College in 2005.  (This institution is now known as Purdue University Global.)  She also completed two semesters at Hamilton College pursing a B.S. in Management – Criminal Justice.  As a part of her education for the AAS degree, Kara completed an Externship with Mothers Against Drunk Driving (MADD).  In her role as a Court Monitor, she observed and documented what happens in the courtroom during drunk driving case proceedings, tracked results, and identified inconsistencies on how drunk driving cases are handled and resolved.  Kara participated in "Spread the Word" campaign, distributing MADD's Tie One On For Safety red ribbons and donation boxes throughout the community encouraging people not to drink and drive. She also contacted several businesses throughout the Lincoln community for placement of donation boxes and donations for MADD. Other responsibilities included accompanying troopers from the Nebraska State Patrol to monitor checkpoint stops in order to maintain data on the amount of citations and arrests for alcohol-involved stops.
Employment History. Other current part-time employment also includes working as a Property Inspector for Mueller Reports.  While conducting on-site surveys, Kara is responsible for creating diagrams and pictures of homes and businesses so that the data can be used by insurance carriers or financial institutions to write or modify policies.
Regarding previous employment that is most relevant to her position at BHR, from January 2016 to July 2019, Kara worked in a variety of roles in two law firms focusing on Personal Injury as well as Family and Criminal Law (i.e., London Law Office and Jantzen law Office). Her positions in these law firms included as Executive Assistant, Office, Manager, and Paralegal.  In addition to a focus on criminal justice and legal issues, Kara also has significant experience working in healthcare. From 2007-2014, Kara was employed with Sutton Ryan Dermatology and Eye Surgical Associates, progressively moving into higher level positions within the company, to include as Medical Records Specialist, Billing Specialist, and Front Office Specialist.  Employment in the behavioral health field includes as a Behavioral Specialist for Visinet, Inc. in 2006.
Kara is excited to bring her knowledge and experience to BHR along with her communication, research, investigative, and computer skills. Strengths also include ability to work independently or as part of a team to meet project deadlines.  In addition, Kara has a significant degree of multi-cultural awareness combined with a high level of adaptability.
For more information about Kara and her experiences, view her LinkedIn profile.