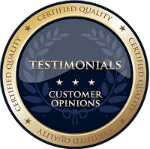 Testimonials
What our CARF consulting customers say:
"We truly consider Brenda Rohren an extension of our team.  Not only is she extremely knowledgeable on CARF standards but even more importantly, she is extremely organized, a great communicator, and a pleasure to work with.  No matter where you are in the accreditation process, Brenda is able to provide you the right guidance.  She provides clear timelines on her reviews as well as thorough responses with specific references to the CARF standards.  We often felt that we were the bottleneck in allowing her to proceed or helping us but she always handled all interactions with the utmost professionalism.  Overall, we could not have gotten through our CARF survey without her consultative services and would highly recommend Brenda to any organization looking for this type of support."
— Ken Thakkar, CEO at Maryland Wellness, LLC * (Baltimore, Maryland, USA)
            * 2021-2022 merger of Alek's House & BACHS Healthcare
Brenda Rohren provides a holistic approach to CARF consulting services (i.e., ability to identify early on in agreement the critical areas where consulting services can be most effective).  She displays a willingness to meet the consulting customer where they are as opposed to where they should be in the accreditation process.  Brenda has an exceptional knowledge of CARF standards and the ability to interpret them as it pertains to agency programs.  She has a wealth of experience and a quick and efficient response time in all forms of communication and provides thorough response to every action items presented.  She is very pleasant to work with either via phone or e-mail and provides a detailed critique and advice with respect to any question, document review, or procedure.  Brenda is generous with knowledge and resources over and above scope of contracted services.  I have been very happy with services rendered."
— Nicola Davis, (now former) Owner & CEO at Alek's House, LLC  (Lanham, Maryland, USA)
"The organization and attention to detail that the CARF consultant, Brenda Rohren, provided was excellent!  Her explanations of changes and recommendations she made are detailed and thorough. I especially like how Brenda made comments on our existing documents (in red text) to show exactly where/how changes need to be implemented. This has been very helpful for making form revisions.  Overall, Brenda provided organized, professional, thorough, and insightful consulting services that inspired confidence in the provider throughout the CARF survey preparation process."
— Kristina Derderian, Clinical Director at Guided Paths, Inc. (Richmond, Virginia, USA)
"The consultant, Brenda Rohren, helped me so much during my first CARF survey at a new agency I was unfamiliar with.  She quickly got to work and immediately started sending me what she thought we needed for the review.  I honestly do not think I could've helped this company to get re-accredited without her help. I am glad she has a website that she was the first person that popped up on my Google search.  She does excellent work."
— Avis Garcia, Executive Director at Pathfinder  (Cheyenne, Wyoming, USA)
"The Consultant, Brenda Rohren, is a quick, highly detailed, and personable professional with an impressive depth and knowledge of CARF standards and guidelines. She displayed a demeanour and tone that was inviting, welcoming, and warm that invited positive consultation. Brenda provided highly detailed emails and practical examples and illustrations. She also displayed superior communication skills. She is knowledgeable, highly detailed, helpful, consultative, personable, and time efficient. Contracting for CARF consulting services with Brenda was a true investment, not a cost.""
— Robert Kissner, Executive Director at Focus Foundation of British Columbia  (Langley, BC, Canada)
"The skills and expertise that Brenda Rohren brings to the table are priceless.  My organization was very pleased and impressed with both her methodology and attention to detail as a CARF Consultant.  She was extremely helpful in guiding us through the CARF process so we are better prepared for the actual survey.  If you want a consultant who has extensive knowledge and takes pride in her work, I strongly recommend Brenda Rohren."
— Daniel Chagolla, Executive Director at Cedar House Life Change Center  (Bloomington, California, USA)
"Brenda is incredibly organized and well versed in CARF accreditation standards. Written and verbal communications are clear and direct. We were provided with a detailed and well organized written evaluation of our conformance to CARF standards and we received very valuable recommendations and suggestions to help us prepare for our accreditation survey. I would recommend Brenda highly."
—  Jay Conrad, Executive Director at Houses of Hope  (Lincoln, Nebraska, USA)
"Brenda has helped us navigate the maze known as CARF.  Her suggestions and recommendations are very helpful and she is always willing to answer questions and provide clarification when needed.  Her expertise regarding the CARF standards is readily apparent."
—  Kelly Madcharo, Program Director at Stepping Stones for Families  (LMEP; Lincoln, Nebraska, USA)
Other professionals report:
"I have had the pleasure of working with Brenda Rohren as a Program Surveyor and also Admin Surveyor. As a team player, I found her to be most helpful, organized, and always focused on the task at hand. As the Admin Surveyor, I admired her ability to lead, support, and engage in the necessary research to seek the correct solution or score. Throughout each survey, Brenda demonstrated excellent knowledge of the CARF Standards and was always fully prepared for the survey."
— Gloria Woodruff, MA, MBA, Program Director at Whiteside Manor  (Riverside, California, USA)
"Brenda is dependable, independent, competent, detailed, ethical, and practices always with integrity.  She works very well with other professionals and is well respected by them.  She is a team player who will take the initiative to learn what she may not know."
—  Jerome Barry, LADC, LMHP, Director at Bryan Independence Center  (Lincoln, Nebraska, USA)
"Ms. Rohren is a very detail-oriented and precise individual. I have worked with some such individuals who get swamped in the detail and seldom finish a task. Ms. Rohren is not one of those. Products are completed, completed with attention to detail, and on or before deadline."
—  Melissa Connor, Ph.D., Nebraska Wesleyan University  (Lincoln, Nebraska, USA)
"I have had the pleasure of working with Brenda since June 2006.  Over the years, we have worked closely together caring for many clients.  I have found her substance abuse evaluations to be of exceptional quality, extremely informative, and accurate.  Her rapport with clients is fabulous.  She is punctual, reliable, and clinically knowledgeable as well.  She gathers information thoroughly, never doing a job "half way."  She works well with staff members and is seen as a team player."
—  Patricia J. Bohart, M.D., Board Certified Staff Psychiatrist  (Lincoln, Nebraska, USA)
Feedback from our therapy clients:
In compliance with professional ethical codes of conduct, testimonials from our therapy clients are not published on our website.  Summary reports from our Client Satisfaction Surveys can be found on the Communication & Feedback page of our website.