About Us

Accreditation – CARF & Better Business Bureau
---

CARF International  –  Behavioral Health Resources, LLC earned a Three-Year accreditation from CARF in October 2014 and again in 2017 for the following programs:  Integrated Outpatient Treatment:  AOD/MH (Adults); and Integrated Outpatient Treatment:  AOD/MH (Children & Adolescents).  A Three-Year Accreditation was earned again in 2020 for Integrated Outpatient Treatment:  SUD/MH (Adults).
By pursuing and achieving accreditation, Behavioral Health Resou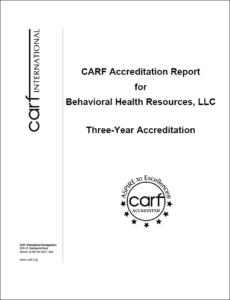 rces, LLC has demonstrated that it meets international standards for quality and is committed to pursuing excellence.
Click here to view the 2017 Accreditation Report and here to view the 2020 Accreditation Report.  For these surveys, we did not receive any recommendations.  This occurs for only 3% of CARF-accredited organizations world-wide.  We're very proud of our clients, personnel, and stakeholders for assisting us in this process.
This accreditation decision represents the highest level of accreditation that can be awarded to an organization and shows the organization's substantial conformance to the CARF standards.
An organization receiving a Three-Year Accreditation has put itself through a rigorous peer review process and has demonstrated to a team of surveyors during an on-site visit that its programs and services are of the highest quality, measurable, and accountable.
CARF is an independent, nonprofit accrediting body whose mission is to promote the quality, value, and optimal outcomes of services through a consultative accreditation process that centers on enhancing the lives of the person served. Founded in 1966 as the Commission on Accreditation of Rehabilitation Facilities, and now known as CARF, the accrediting body establishes consumer-focused standards to help organizations measure and improve the quality of their programs and services.
---
Better Business Bureau (BBB)  –  We support and contribute to the Better Business Bureau's mission of fostering trust and accountability within the community through honest and ethical business practices.  Click on the BBB Logo below to view our accreditation status.